Blogs, Eyeballs, Train Tracks, and Brew
I've been working on some really fun stuff the past several months. Back in October, a fellow graphic design buddy of mine, tossed a client my way that he didn't have time to pick up. (Those are great buddies to have, btw. Thanks CT!) This job was for Ciclops Cyderi out of Spartanburg. Ciclops Cyderi is unique in their use of world-wide flavors and traditional, ancient, and unconventional cider brewing techniques. Kolby (the owner and all-around-fun-bearded guy) was certain of what he wanted in a logo, we just needed to make it handsome and function as he needed. So the gist of the idea was an eyeball in a box shape (there's more to it than that, but I'll save you all of those details since I'm just happy that you are still reading this).

So here we have a Ciclops Cyderi growler with it's new fancy-pants logo. Yay!
So after knocking this out for Kolby, he asked if I would work with he and his business partner, Michael, on reworking the logo they had for their upcoming business, Hub City Tap House. Of course, I said yes. I begin every logo project with a logo questionnaire for my clients, so Michael filled that out and off we went. He was open to anything, but was envisioning something with textures that would be reflective of the interior vibe of the Tap House…corrugated metal, wood, brick, industrial feels. He had also been studying English pubs and thought the reverse glass decoration and ornate gilding of that era was interesting. (Think John Mayer's Born & Raised cover…by David A. Smith) He wasn't sold on any of this, but was just tossing ideas around. So we have lots of highly detailed interesting stuff going on here. When it comes to logos, simplicity is going to be your bestest friend. So, I began trying to think…what if, instead of reiterating the interior textures/vibe, what if we complimented them instead with a logo with stylized industrial elements (straight hard lines, symmetry, encasements). I contacted Michael to let him know what I was thinking and he was totally supportive.
So Why "Hub City Tap House"? Of course, it's Spartanburg's long-lived nickname. It's also what a large percentage of Spartanburg businessmen/women choose to name their babies. But why? I don't know about all of the other Hub City Fill-in-the-Blank businesses, but I know for Kolby and Michael that they are eager to become a part of the community. They want to give back. To open arms and say "We're here. We want to serve you. We want to give back. Now, come on in and have a beer."
(Here are some excerpts of the logo presentation. This will be easier than just typing all of this out, because like I already said, writing isn't necessarily fun to me. Although, I'm having an ok time right now, I guess. Ha!)
So, that was that. I then show that the logo can work in various ways…one-color, two-color, three-color. I also love giving a logo "life" in a presentation so that my clients can see how it will actually look when they use it. It's great that a logo looks good on a white background in a pdf document, but that's not where it's going to live most of it's life.
So here are some of the mock-ups I used to show how it could "live":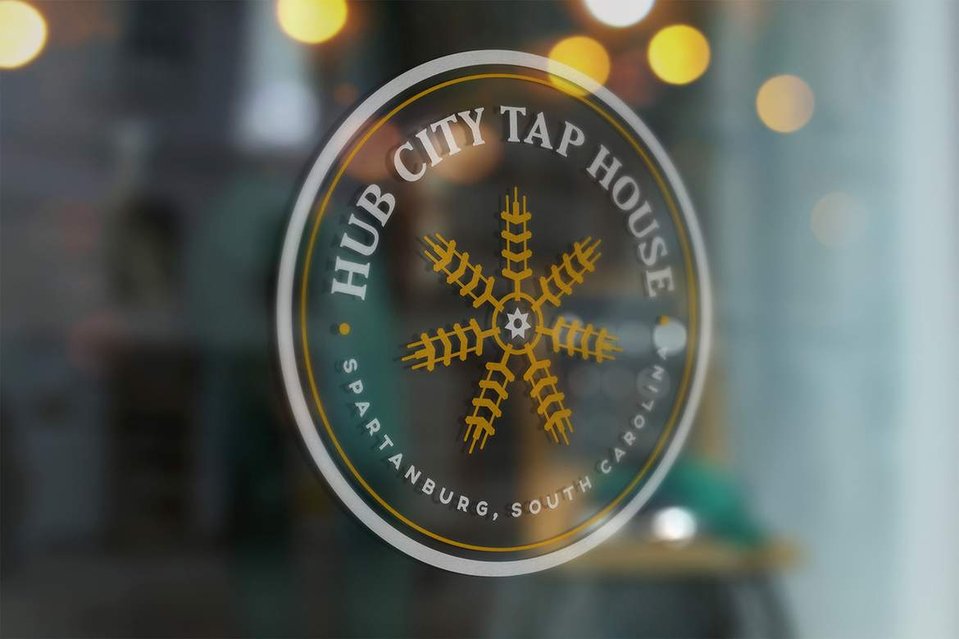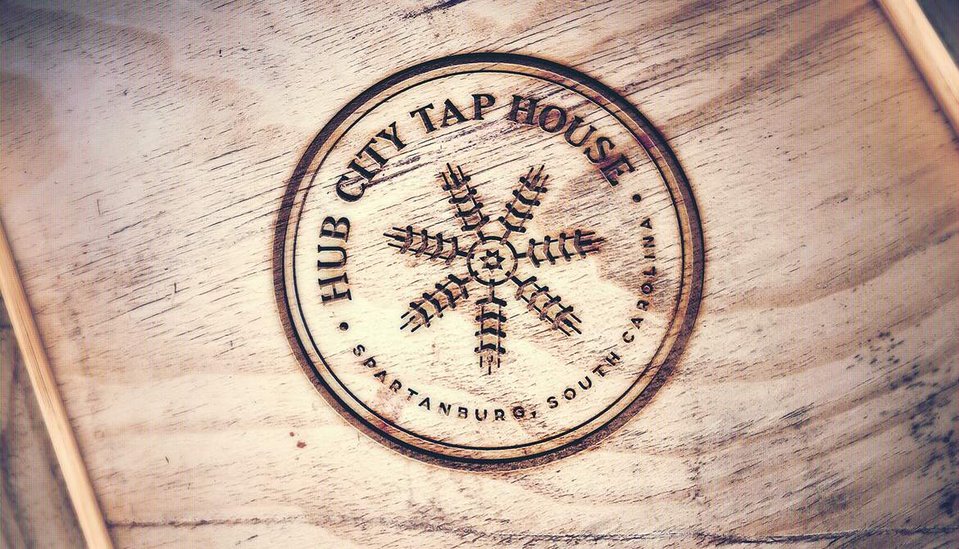 The response from Michael was great and I couldn't have been more thrilled that they were thrilled.

"I'm blown away. Seriously. This is phenomenal. Thank you so much! I'm almost speechless. I'm not sure what else to say. Wow."